Company "Eskos" AD offers storage and logistics.
The company employs recognized experts in this field who, with great professionalism applied his many years of experience. Our team of specialists monitors modern technological developments and the company is constantly evolving and modernized. Our material facilities and equipment meet the dynamics of modern regulations.
Company "Eskos" AD is established name in the market of warehousing and logistics activities. More than 20 years the company provides services in the following areas:
warehousing and logistics implemented in a wide range of upgraded storage facilities and infrastructure, dry warehouses and open storage areas;
handling and transport activities;
providing production halls for rent;
providing office space for rent;
providing TIR – parking.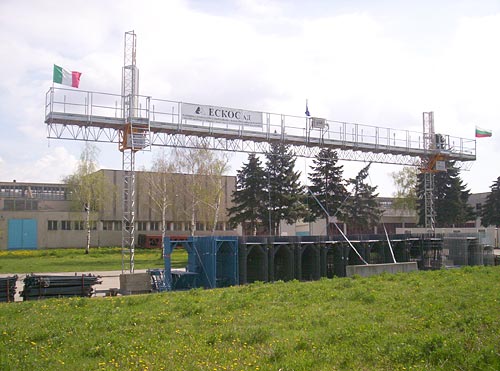 The warehouse of the company "Eskos" AD is located near Gara Iskar near Sofia Airport (4 km), and Metro Station "Sofia Mount Athos".
Logistics – industrial complex includes production facilities and equipment, parking and open areas, an administrative building with offices and a fully autonomous infrastructure. There TIR-access and two separate portals. The complex is built on a separate plot of 40,000 square meters on which there are 20,000 square meters indoor space and consists of:
WAREHOUSE
– Sector dry storage;
– Sector opens storage area
INDUSTRIAL PART
– ADMINISTRATIVE PART with built offices and parking;
– Sector TIR – parking
Logistics – industrial complex complies with the requirements of EU standards, having met all standards for fire safety.
Company "Eskos" AD specializes in the sale of machinery and equipment for construction, imported from Italy, high quality and attractive prices.